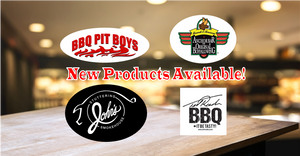 Take Your BBQ Skills to a New Level
Welcome to the new online store for Strodes BBQ & Deli. For the first time ever we are making our special blends of barbecue rubs, seasonings and sauces available online, shipped direct to you.
Browse our site and you'll be sure to find your new favourite ingredient to make you fall in love with grilling the way that we have! Explore our wide selection of tasty sauces, and spices from our own brand, Big Sid's BBQ! If you've visited our shop in person or had Strodes catering you're likely already familiar with Big Sid's flavourful reputation.
Now, following in Dads footsteps, our resident smoke-master Mitchell has come up with his own line of drool-inducing rubs and seasonings under the name Mitchell's Meats. You'll want to try them all!
Last but not least, we are your online source for all flavours of the new reinvented barbecue sauces from Jack Daniel's! These sauces are often imitated but never duplicated. You'll find these official sauces are small-batched produced with no preservatives and are made with Jack Daniel's whiskey.
New products are being created all the time so check back frequently and get ideas for your next BBQ adventure!
New Product: Strodes All Natural BBQ & Grill Cleaner & Degreaser
Grab a bottle of this powerful degreaser and bring back your grills original shine! Strodes All Natural Degreaser is perfect for the kitchen, barbecue, garage, laundry room and much more! Plus, it's made in Canada! Order yours today and make your life less greasy!